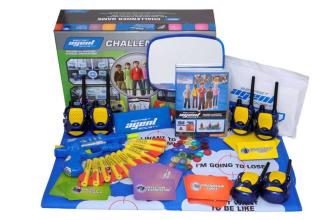 The Secret Agent Society (SAS) is an innovative, evidence-based program using games and activities to helpchildren aged between 8 and 12 who need to improve their social and emotional skills.
SAS was created by an Australian Psychologist, Dr Renae Beaumont, and has been proven through research to be a successful social skills program for children with Autism Spectrum Disorders
A university randomised controlled trial found 76 per cent of children with Asperger's Syndrome who participated in SAS improved from showing clinically significant delays in social and emotional functioning to displaying these skills within the range of typically developing kids. (Social Skills Training Institute)

The program uses an animated computer game, board game and other espionage themed games to help kids learn
how to recognise and manage their own feelings, cope with change, detect other people's emotions, talk and play
with others and deal with bullying.
The program is comprehensive and provides resources and information for both parents and teachers.
Children can participate in the program by either attending a small group program or through individual therapy sessions.
You can learn more about the program by visiting the Secret Agent Society site, or talking to Vee or Klaudija about it.